What is Kinesiology Taping?
A strained or injured muscle or tendon can make you feel slower or weaker than normal. Healthy skeletal muscles are essential to keeping you moving at your best. In 1979, Dr. Kenzo Kase developed a muscle treatment that he named the Kinesio Taping Method®.  Kinesiotape® is a specially designed tape that was created to have a texture and elasticity close to the human skin.  This taping method gently lifts the layer of skin and attached tissue covering a muscle so that blood and other body fluids can move more freely in and around that muscle.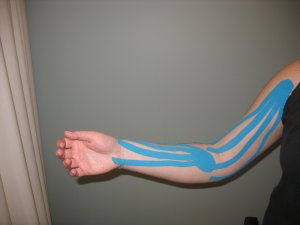 Kinesiotaping® gives support and stability to your joints and muscles without affecting circulation and range of motion. It is also used for preventive maintenance, Edema, and to treat pain.
Kinesiotaping® is a technique based on the body's own natural healing process. Kinesiotaping® exhibits its efficacy through the activation of neurological and circulatory systems. This method basically stems from the science of Kinesiology, hence the name "Kinesio". Muscles are not only attributed to the movements of the body but also control the circulation of venous and lymph flows, body temperature, etc. Therefore, the failure of the muscles to function properly induces various kinds of symptoms. (Source: http://kinesiotape.ca/what-does-kinesio-taping-do)
Kinesio Tex tape was created by Dr. Kenzo Kase in 1979 after he found the tapes on the market weren't performing in the manner he needed or wanted. Using this revolutionary tape, Dr. Kase created multiple methods of applying it to maximize its effectiveness. Starting in 1984 the Kinesio Taping Association was created for all practitioners trained in the taping methods. Currently, the association has more than 10,000 members worldwide, with millions of athletes and everyday patients alike using the tape to achieve optimal health. Professional athletes such as David Beckham, Olympic athlete Wallace Spearman (US runner 2008 Beijing Olympics) and tennis star Novak Djokovic are just some of the examples of athletes who use Kinesiotape.
In the clinic, we use RockTape®, a kinesiology tape that is stronger, more adhesive, which lasts longer, and which we have found most effective.
While the use of kinesiology tape is often associated with athletes, the reality is that RockTape® is effective for the treatment of a wide variety of problems, not just sports injuries. (Source: rocktape.com/products/tape)
All of our Chiropractors have been trained in this technique.